Smart Strategies For Designing An Outdoor Space That's Best Set Up For You
For even the savviest of home decorators, creating a well-appointed outdoor space can pose a challenge. It's often an undefined space with no walls or hard boundaries, and the design has to contend with the elements (not to mention birds and bugs). It's a lot to consider.
But the key to designing a successful outdoor space, according to interior designer Diana Apgar of Decorating Den Interiors, a network of individually owned and operated interior design franchises throughout the U.S. and Canada, is actually quite simple: Approach it the same way you would any room in the house.
That means consider your wants and needs for the space, sketch out a floor plan, and choose a color palette and style that complements the adjacent spaces. In this case, that would be the exterior of a home and surrounding landscape.
But one person's dream backyard may be another's high-maintenance nightmare. To ensure that yours is truly an oasis for you, the most important factor to consider is use. Whether you plan to host weekly socially distant dinners or want to start a vegetable garden, here's what to keep in mind when building your outdoor space.
For the entertainer
Seating is the most important ingredient when it comes to creating a comfortable place to entertain (a host's best trick is to seemingly conjure extra chairs from nothing). Consider how often you plan to have people over and how many you'll need seats for, and whether you're gathering around a dining table, a fire pit, or in a more relaxed lounge area.
Dee Frazier, who also works with Decorating Den Interiors, says to take into account what your regular group looks like, too. "Is it a couple? Two couples? Two families?"
She suggests thinking about how furniture can be shared across different areas, as well. For example, borrow seating from around the pool for an evening near the fireplace, or choose dining chairs that will look good near the sofa. Frazier also advises regular entertainers to opt for small tables and chairs that can be brought out when needed then stacked and stowed when they're not (though this does require storage).
For the growing family
When designing for a family, Frazier first considers the age of the children. Then, it's about how the outdoor space will be able to evolve as they grow older (and their parents' need to watch them changes).
Frazier recommends using different furniture configurations to accommodate activities for just the parents, the entire family, or just the kids. This could look like a cooking area with a grill, which is adjacent to a lounge, which leads out to the lawn and swing set.
If the family will be outside at night, make sure each zone has the appropriate lighting. Use landscape lights to mark the perimeter of walkways and patios, and add a pendant or tabletop lamp over a dining table. In the yard, you can uplight trees and hang heavy-duty string lights (use poles to elevate the strands) instead of a functional but harsh flood light.
Apgar usually recommends a sectional sofa for families because it provides enough space for everyone to spread out, plus the modular varieties can be rearranged and moved around as needed. Choose durable materials that are kid-friendly.
"Opt for comfy and cozy," she says. "You don't want something that could hurt someone — some wicker can be very sharp."
For the gardener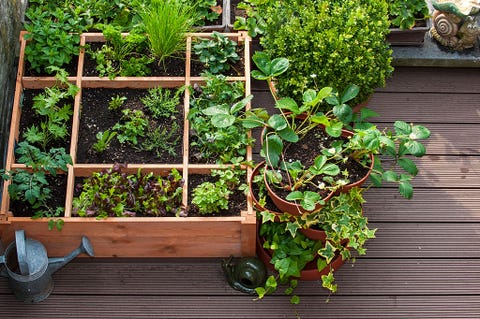 Plants are crucial for any outdoor area, but if you want to make them the focus, there's more to it than just throwing a few heirloom tomato seedlings in the ground.
While understanding the light conditions and maintenance that something like a vegetable garden requires are obviously key to a successful harvest, you have to start with the square footage.
Frazier, an avid home gardener, says that even if you don't have the land to accommodate a mini farm, "There are always places where you can put planters. You just have to be creative."